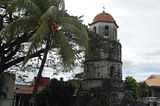 The bell tower of St. Catherine of Alexandria Cathedral was constructed in 1811. It's purpose was to inform local citizens of daily mass schedules. It also served as a watchtower for forthcoming attacks by Moro pirates coming from Mindanao.

The Dumaguete Belfry was restored in 1985 and has since become a popular landmark. A garden now surrounds the tower and a grotto of the Virgin Mary stands erect near the base. Catholics flock daily to light candles for their prayers or for confirmation of their faith.

The Dumaguete Belfry is one of the most famous historical landmarks in Dumaguete. There are few remaining artifacts and historical building dating back to the Spanish era. The notable exception are the large number of Spanish era cathedrals scattered throughout Negros. I have upcoming articles and photos of some of these.

The Belfry photographed at the turn of the 20th Century.